About IBMF
IBMF has been carried out since 2009 and gained a lot of attentions and great responses from people around the world.
Register Now
Contact Us
International Bali Meditators' Festival (IBMF), initiated by a spiritual humanist and author of 180+ books Anand Krishna, is an annual event organized by Anand Ashram Foundation in Ubud Bali Indonesia since 2009. The festival aims to bring together all meditators in the world to:
Spread spiritual values and develop public awareness regarding the importance of applying meditation/yoga as a way of life.
Share experiences, knowledge, techniques and cross-cultural understanding about meditation/yoga among the world societies.
Create networking with like-minded people internationally.
Create an enlightened society.
The first to fourth IBMF were held at Bale Banjar Ubud Kelod, Astina Field Ubud and Museum Puri Lukisan with the opening ceremony performed at Ubud Palace. Since 2013 (the fifth IBMF), Anand Ashram Ubud (www.ubudashram.org) has become the main venue of IBMF.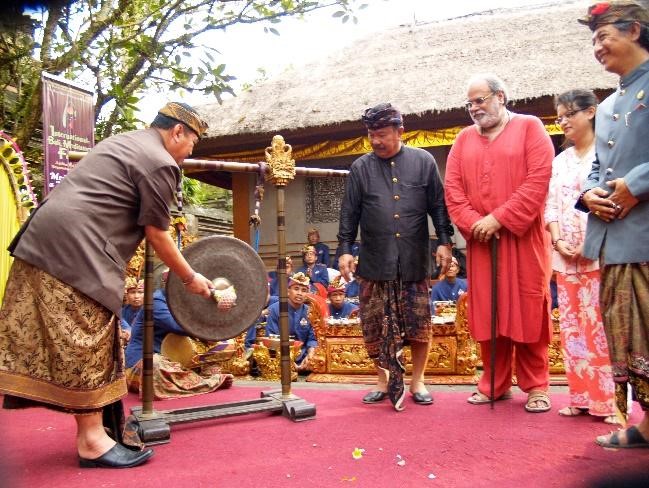 Opening Ceremony at Ubud Palace
The programs included plenary and panel discussion session, meditation and yoga workshops, bazaars, evening of devotions (Bhakti yoga) filled with devotional songs from many cultures or traditions and night celebration filled with music, poetries, songs and dances. However, during the global pandemic of Covid-19, the evening of devotion and celebration as well as bazaars could not be carried out. The 12th IBMF in 2020 has become the first online festival.
Protectors
Governor of Bali Province
Regent of Gianyar Regency Bali
Penglingsir of Puri Ubud (Ubud Palace) Gianyar
Proud of his Sindhi-Indian ancestry rooted in the Glorious Sindhu Civilization and Culture, also referred to as Shintu, Hindu, Indus, and Hindia – of which Nusantara or the Indonesian Archipelago has been a part since ancient times – Anand Krishna was born in Solo (Central Java), which, as predicted by the Shuka Nadi thousands of years old oracle), is his Karma Bhumi, his work field.
Dr. Rajendra Prasad, the first President of India remarked upon seeing the child Krishna, "This is not ordinary boy". The prediction has come true. Standing high as the legendary Mount Meru, Anand Krishna wavers not an inch from his course of action, inspite of all kinds of trials and turbulences.
Beside the mother Organization, Anand Ashram Foundation (affiliated with UN), Anand Krishna has inspired several other social and educational institutions.
The 4th President of Indonesia, KH Abdurrahman Wahid recognized his contributions and said, "If we want to have peace, then we must hear what Anand Krishna is saying".
Before a large gathering at an event in Sarnath (India), the Venerable Dalai Lama referred to Anand Krishna as a "True Friend of Humanity and Tibetan Culture, having close ties to Indonesian and Indian Culture as well."
And, Ida Pedanda Nabe Gde Putra Telabah, one of the Chief Priests in Bali, called him Maharshi or Great Seer, because of his clear vision, and dedication in preserving and promoting the ancient heritage of humankind.
University of Califonia Radio (Santa Barbara) introduced Anand Krishna as a Spiritual Activist/Humanist, an identity that so well describes his mission. He has a legacy of 180+ books to date with almost 3 million copies sold in the past 25 years. He has also appeared on all major national television shows and print as well as online media both in Indonesia and overseas. His talks and meditations on YouTube have drawn millions of viewers from all parts of the world.
People of all faiths visiting the Spiritual Centres established by him and joining in various humanitarian, social and educational activities are a running commentary to his vision "One Earth, One Sky, One Humankind" – his interpretation of an age-old Sanskrit Maxim, "Vasudaiva Kutumbakam", this entire world is but one big family.
Anand Ashram Foundation is the Centre for Wellbeing and Self-Empowerment. It was founded on January 14, 1991 by Mr. Anand Krishna inspired by his personal experience mysteriously cured from acute leukemia (blood cancer) and then introduced meditation as the cornerstone of his holistic health strategy, especially for those living in big and busy cities like Jakarta.
The Anand Ashram's Vision is One Earth, One Sky, One Humankind.
The Anand Ashram's mission is to create an Enlightened Society based on Universal Values of Peace, Love and Harmony.
Besides the mother center in Jakarta, some more meditation centers have been established such as Anand Krishna Centre Joglosemar – Central Java (www.akc joglosemar.org), Bandung (West Java), Kuta (www.akcbali.org), Singaraja (www.akcsingaraja.org) and Tabanan (Bali), Anand Ashram Ubud Bali (www.ubudashram.org) and also Anand Krishna Information Center in Lampung (Sumatra), Surabaya (East Java) and Lombok (Nusa Tenggara Barat) as well as One Earth Retreat Center in Bogor (West Java).
Meditation and Yoga Exercises at the Anand Ashram
Anand Ashram meditation exercises start with the cleansing of the emotional burdens, such as anger, sadness, disappointment and trauma, which has been dormant for a long time. Only then can a person enter the realm of meditation in which the balance of mind, body and spirit can be achieved. That way a person can think clearly, be calm and not agitated, creative and able to maximize all the potential in himself or herself. After that, change will happen by itself, starting from himself or herself, and then expanding to the environment, the state and then it extending out to the world. Besides meditation exercises, yoga exercises also have been practiced at Anand Ashram, including Kundalini Yoga, Ananda Integral Meditative (AIM) Yoga, Taruna Yoga for youth and Yoga Ananda. 
Various Activities at Anand Ashram
Various activities of Anand Ashram Foundation are the result or the fruit of the meditation and yoga exercises. The potential that has emerged in the participants can be channelized into many activities related to economics, education and social Service. Therefore, the meditation taught in Anand Ashram, is not about a sitting still meditation but a dynamic one, not only useful for the participants themselves but also extending to the wider public, as the motto of Anand Ashram is Serving the Almighty by Serving Humanity and Community.
For more information about Anand Ashram Foundation, please visit www.anandashram.asia or www.anandashram.or.id .