Join for
Online 13th IBMF
International Bali Meditators' Festival
20 June 2021
(in English & Bahasa)
Feel and Experience
Only at IBMF 2021
Learn how to attain the purpose of life and wellbeing through practicing yoga & meditation
Understand yoga philosophy & the immense power of yoga holistically to empower yourself
Immerse in a Spiritual Dialog (Satsang) with Great Spiritual Master
Dive deeper into Yoga with certified Yoga Acharya
Connect with fellow seekers form around the world
Unite with the Divine within You
Click Here to Register
13th International Bali Meditators' Festival
A Celebration of Joy at the International Bali Meditators' Festival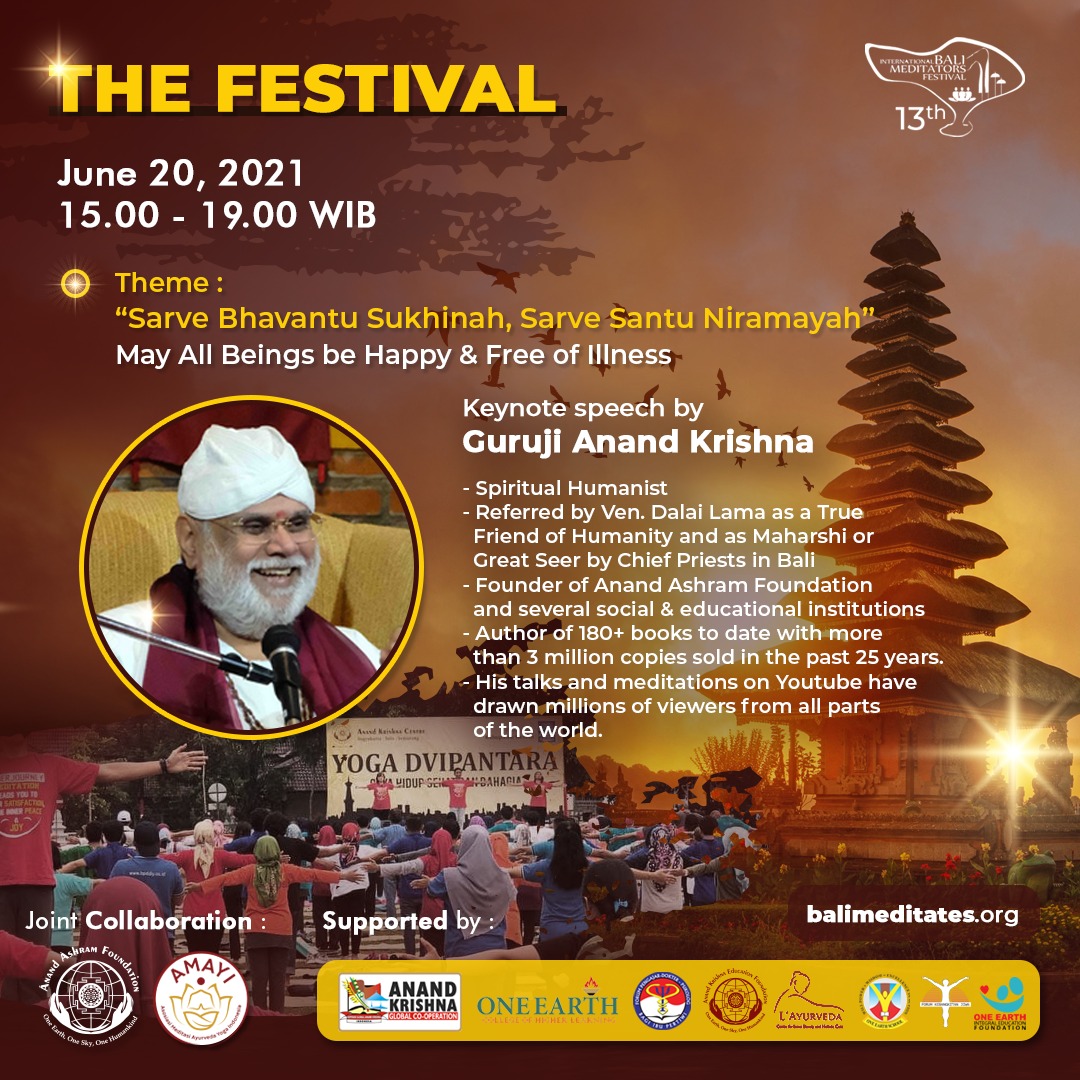 Do you want to know the key of
TRUE HAPPINESS?
How to Avoid Grief in Life?
How to Overcome Anxiety & Emotional Imbalance?
What is the Secret of Wellness and Wellbeing?
How to Bring Out the Hidden Potential within You?
How to Regulate Prana/ Life Force?
How to Go Beyond Mind & Achieve Self-Balance?
Find the answer only at the
International Bali Meditators' Festival
More than 6,000 People Have Benefited from the Previous Events of IBMF, Now it's Your Turn!
Since 2009, IBMF has been held annually and gained a lot of attentions and welcome from various circles around the world.
Have you been doing yoga practices but still
DIFFICULT TO CONTROL YOUR MIND AND EMOTION?
What did they say
about joining International Bali Meditators' Festival
Do You Want to Know and Learn More about Yoga & Meditation?
Understand Yoga Philosophy to Empower Yourself?
Know the Immense Power of Yoga Beyond Asanas/ Yoga Postures?
Practice Yoga for Transformation of Mind and Have a Better Life?
Learn How to Attain the Purpose of Life through Living Meditatively?
Find the answers only at
International Bali Meditators' Festival
Click Here to Register
13th International Bali Meditators' Festival